Shopping Cart
Your Cart is Empty
There was an error with PayPal
Click here to try again
Thank you for your business!
You should be receiving an order confirmation from Paypal shortly.
Exit Shopping Cart
This is your life, my passion, lets share it together!
| | |
| --- | --- |
| Posted on October 26, 2016 at 3:27 PM | |
Nutrients are substances we humans use in large quantities, and are needed for all bodily functions, including energy production, tissue growth and repair.
Depending on the nutrient, these substances are needed in small or large amounts. Those that are needed in larger amounts are called macronutrients.
There are three macronutrients that the body requires. These are proteins (amino acids), carbohydrates (sugars), and fats (lipids). Each of these macronutrients provides energy in the form of calories.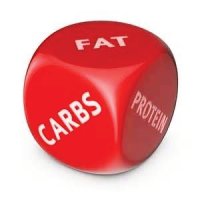 In proteins, there are 4 calories per gram.
In carbohydrates, there are 4 calories per gram.
In fats, there are 9 calories per gram.
This means that if you consumed 20 grams of protein or 20g of carbohydrates within a meal both foods would contain 40 calories each, if you had them together the total would then become 80 calories.
Food labelling, what you need to know.
Nutrition labels can help you choose between similar products and keep a check on the amount of foods you are eating. This can be highly beneficial to say a diabetic who needs to watch their overall sugar intake, or the athlete, bodybuilder or dieter looking to track their overall calorie/macronutrient intake.
Knowing what nutrients, you are consuming can help you create a balanced meal, making you aware of each specific nutrient within a certain food group.
Also, being able to track specific nutrients, will allow greater flexibility within the diet, as you'll be able to vary food sources daily while hitting your overall calorie target and even macronutrient, or fibre intake. No more worrying that a food is high in fat, sugar or salt, as by knowing your daily energy requirements you can balance each meal accordingly to suit individual needs.
Most pre-packed foods have a nutritional label on the back or side of the packaging. These labels include information on energy in kilojoules (KJ), and kilocalories (Kcal), usually referred to as calories.
Labels also include information on proteins, carbohydrates, of which sugars, fats, saturated fats, fibre, sodium (salt). Some labels are even more specific providing information on various types of dietary fat, vitamins and minerals. All nutrient information is provided per 100 grams and then a recommended serving size.

Some companies also highlight the energy, fat, saturated fat and salt content on the front of the packaging alongside the reference intake for each, you may notice some of the information highlighted in red, amber and green light coding, which can also help you determine if a food is high, medium or low in a specific nutrient.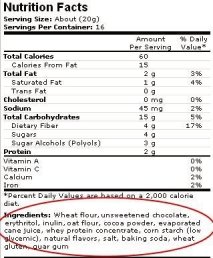 Most products will also contain an ingredients list which will allow you to know what they contain.
The ingredients are listed in order of weight with the main ingredients in the package first so you'll know if a product is predominantly sugar based, fat based etc.
Some thoughts to keep in mind,
Just because a product is low in fat, does not make it any more nutritious as most companies will replace said fat with additional sugars, sweeteners, and thickeners.
Once you know your overall calorie requirement don't be overly concerned if a food group is high in proteins, carbohydrates and fats unless your diet is macronutrient specific or tailored to suit.  Looking at your diet while understanding that everything equates over the day, will allow you to have more flexibility.
If a product you are eating contains 20g of fat, and labelled in red as being high, wouldn't matter if your overall fat allowance for the day was say 60g, you'd just tailor the diet to suit.
There are many benefits to balancing out your meals and one's overall nutrition, these include satiety during and between meals, muscle protein synthesis, stable blood sugar, better digestion, nutrient absorption and bodily functions we will get to over the next few weeks.
Remember food labelling can be off 20-25%.
Quite simply if you over consume calories and expend less energy you'll gain weight, or if you under consume calories you'll not gain quality muscle mass.
JP
Categories: Useful information
/