Shopping Cart
Your Cart is Empty
There was an error with PayPal
Click here to try again
Thank you for your business!
You should be receiving an order confirmation from Paypal shortly.
Exit Shopping Cart
This is your life, my passion, lets share it together!
There are a couple of things to consider when trying to reduce body fat.
First we need to ensure that we are progressively and consistently hitting all our targets including calories and macro's, training and recovery, stress management, cardio, and posing if we are competing. 
Now I could get in a big conversation here explaining the benefits of each but instead I'll share some quick tips along with two slight variations of my favorite go to meal of the day.
Tip #1 - Nutrient density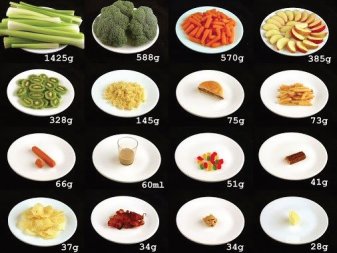 Nutrient dense foods are foods that have a lot of nutrients but  contain fewer calories. These types of foods in my opinion are crucial when dieting as they'll supply the body with essential nutrients necessary for all bodily functions. This will serve you well especially when the calories begin to drop and we get deeper into a deficit, ensuring you are still at least hitting your micro-nutrient targets.
Some great examples of nutrient dense foods weighing 100 grams would be... 
Spinach 24 calories, broccoli 35 calories, carrots 28 calories, baby potato 75 calories and sweet potato at 86 calories. 
Other benefits to consuming these types of foods will include their fiber content which will improve satiety, help with digestion and keep your gut healthy, plus their water content which will improve hydration and fullness.
Tip #2 - Food volume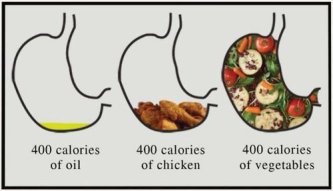 It's a no brainer that food volume is essential when it comes to dieting, and eating foods low in calories but with a higher food volume will also help improve satiety so try adding other high volume low calorie foods like mushrooms, butternut squash, courgette spaghetti, beans, legumes or even cauliflower to meals that would normally contain rice or pasta. 
This means that for the same volume of food you're consuming fewer calories. so win, win, wheres the nut butter!
So here are two of my favorite examples of favorite stir fries.
Coconut, maple syrup, butternut and baby potato stir fry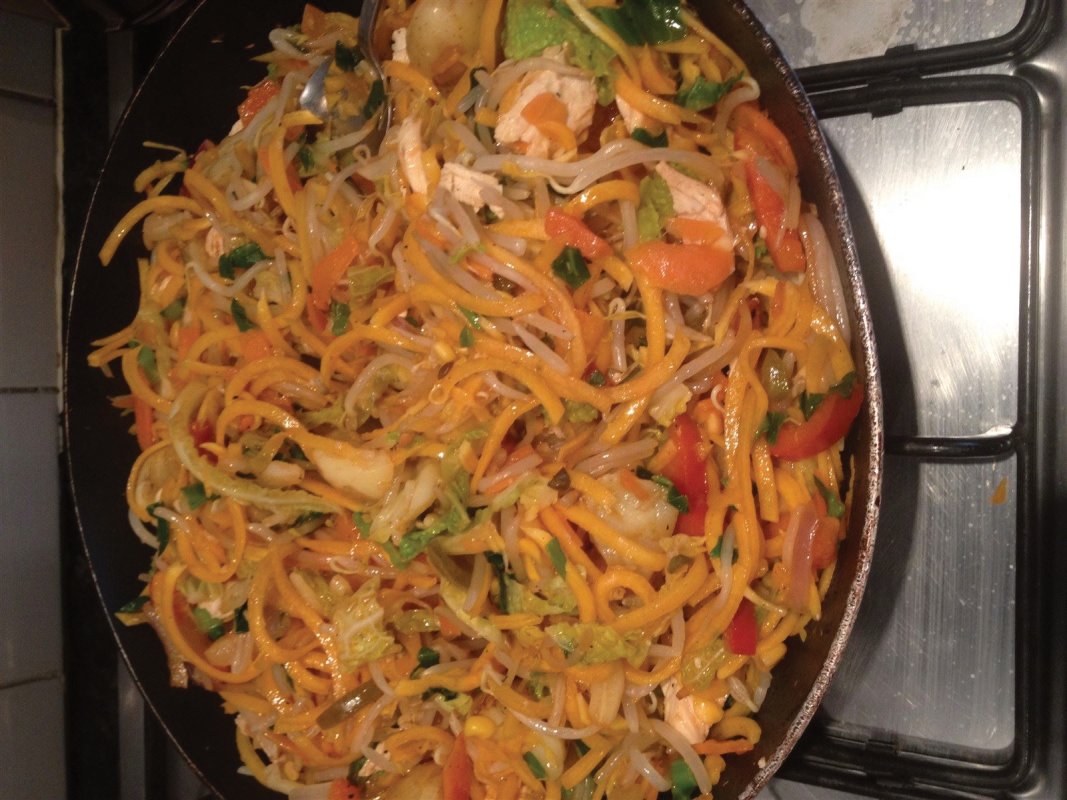 What you'll need
570g mixed veg (large bag from tesco)
Your favorite protein (chicken, turkey, beef, egg white, venison) 
250g butternut squash
200g baby potato 
The sauce
50ml rice vinegar or apple cider vinegar 
15ml coconut aminos (Amazon) 15g balsamic vinegar 
15ml maple syrup 
1-2g powdered garlic 
1-2g ground ginger 
1. Pre heat the wok and use a low cal spray such as fry lite.
2. Add a full pack of mixed vegetables and cook for 4 minutes, constantly mixing.
3. Mix your sauce, add to the wok with your favorite meat (chicken and venison are my choices), squash noodles and heat for another 3-5 minutes
4. Slice pre cooked baby potato and cook for another 60 seconds 
5. Season with sea salt and serve.
Version #2 
Chicken, cashew and coconut stir fry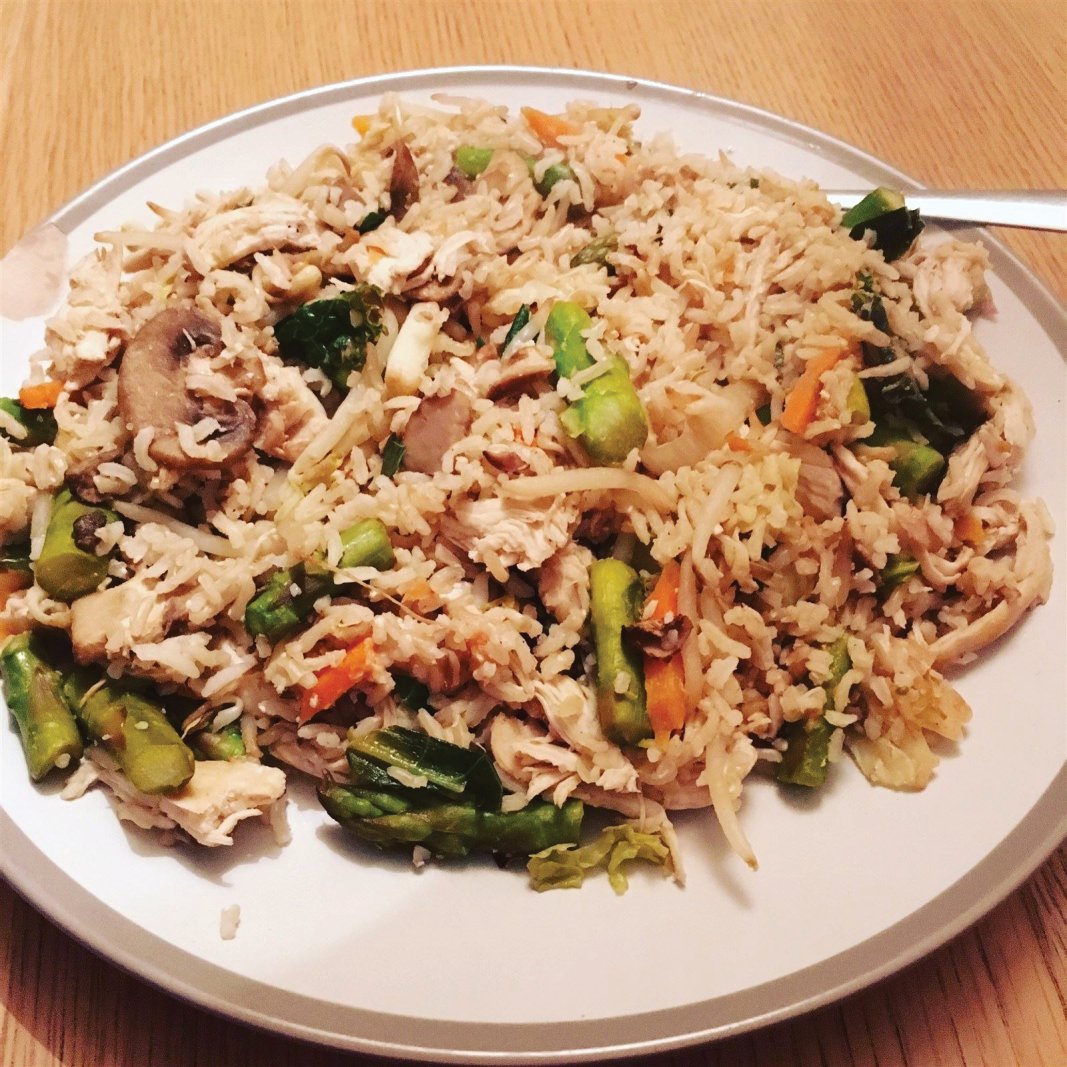 Here's what you will need
200g of pre cooked chicken breast
1 pack of your favorite vegetables
100g of pre cooked wholegrain rice
50 ml red wine vinegar
30g cashew butter
10g coconut oil
1. Pre heat the wok and add 5g of coconut oil.  
2. Add a full pack of mixed vegetables and cook for 4 minutes, constantly mixing.
3. Add red wine vinegar to the wok with the chicken breast, and pre cooked wholegrain rice heat for another 1-2 minutes
4. Add the cashew butter, season with sea salt, serve and enjoy.
Both meals are under 400 calories and will completely fill any plate, so why not give them a try and leave a comment below?
Have a great day!
JP
Today I made this amazing meat pizza I just had to share with you, with practically no carbs loads of meat and healthy fats this truly was a delight.
ingredients (I shop in sainsburys)
Meat base...
500g lean grass fed steak mince
1 teaspoon parsley
2 free range eggs beaten
Toppings..
2 tablespoons tomato puree, 1 tea spoon extra virgin olive oil, chopped garlic, touch of oregano
layer with loads of veg, chicken, mozarella
set oven at 220 c
Beat eggs and mix everything together with sea salt and black pepper to taste. Grease a cake tin with some organic unsalted grass fed butter (I use grahams or kerry gold) add mixture and spread to make the base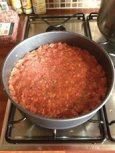 now be spontaneous and add whatever you want but first make the tomato base
I forgot some ingredients but I used tomato puree, chopped garlic, oregano, and a touch of water, then you are ready to spread over your base. I also used last nights homemade coconut curry for my meat topping with red onion, sweet red peppers and buffalo mozzarella but regular organic will do. Pop in the oven for 20 to 25 minutes and serve.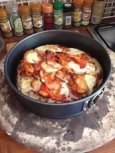 cut into 4 and serve!!!!!
Enjoy...
JPPT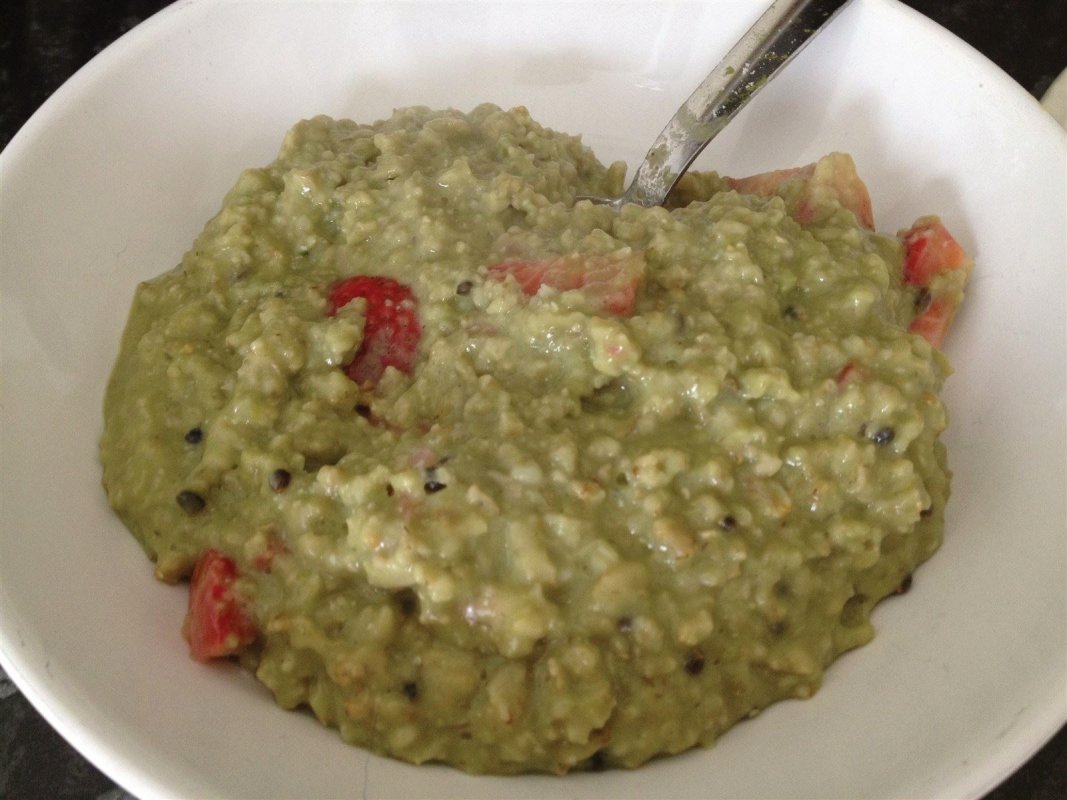 Ok so as promised here is my new morning breakfast recipe for my Matcha Porridge, this breakfast really packs a punch when it comes to getting prepared to start the day
Heres what you'll need
Matcha green tea
Bob's red mill gluten free oats
1 Whole egg
Natural stevia Extract
Goji berries
Banana
Manuka Honey
Pro 10 Unflavoured (use flavoured of your choice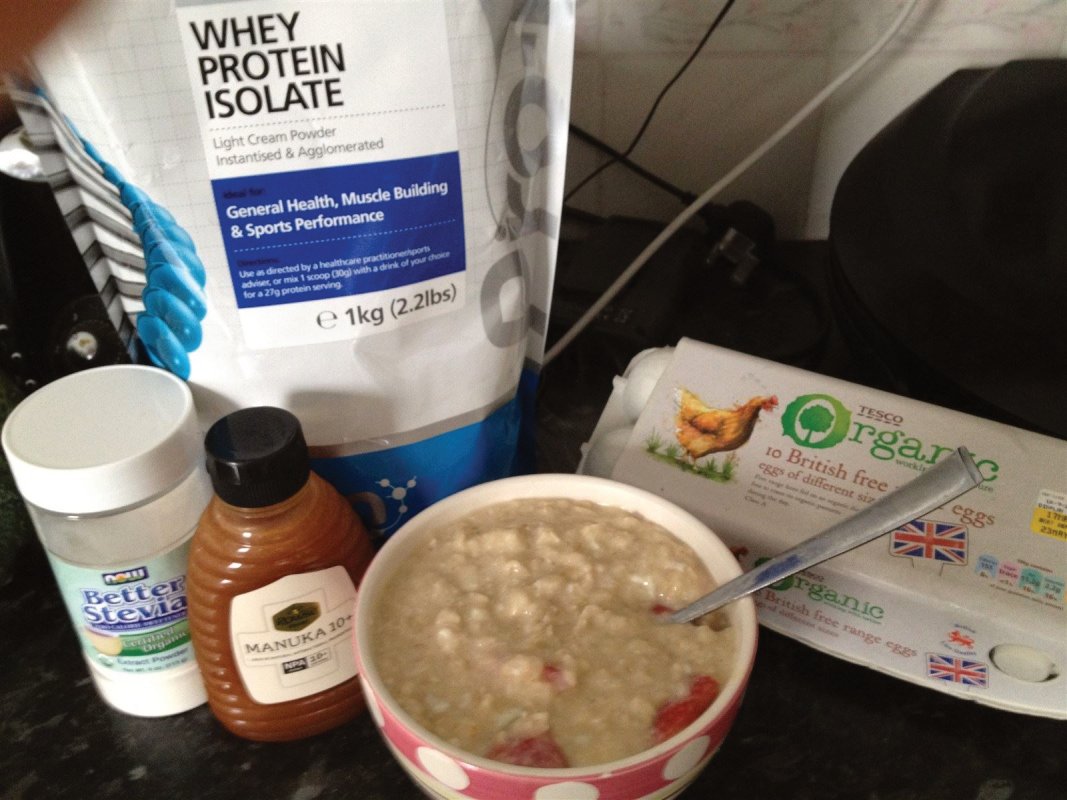 Ok so they key to great oats is to let them steep over night, allowing them to soak in water over night will ferment the oats are make them easier for the body to digest allowing our bodies to absorb more nutrients, so if its say 80g oats add 250ml of water and allow to soak, when you get up turn on the stove to a very low heat to preserve as much of the nutrients as possible and start adding your ingredients.
1. Once you have turned on the stove add 1g of MATCHA GREEN TEA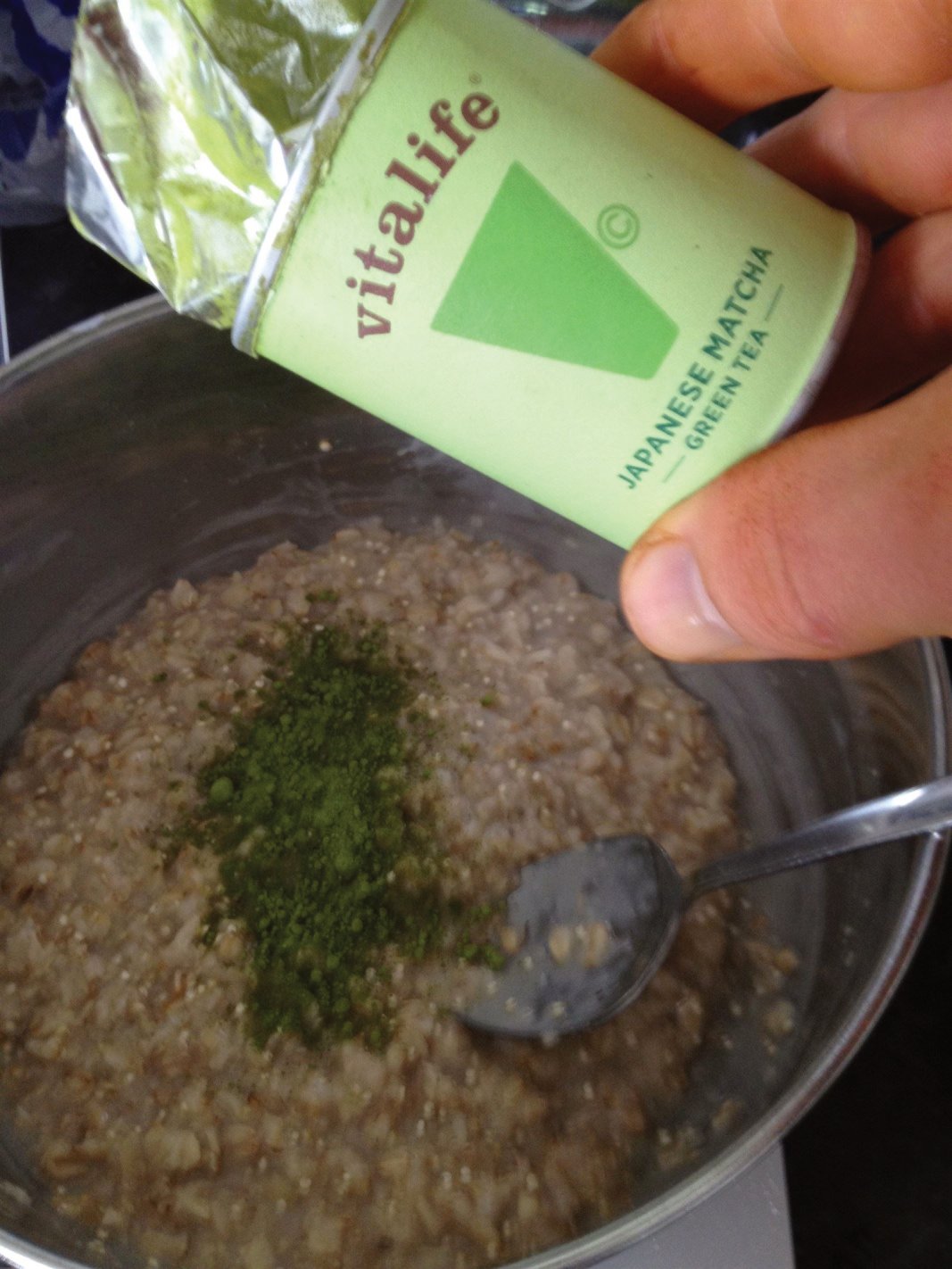 2. Add 1 medium egg preferably organic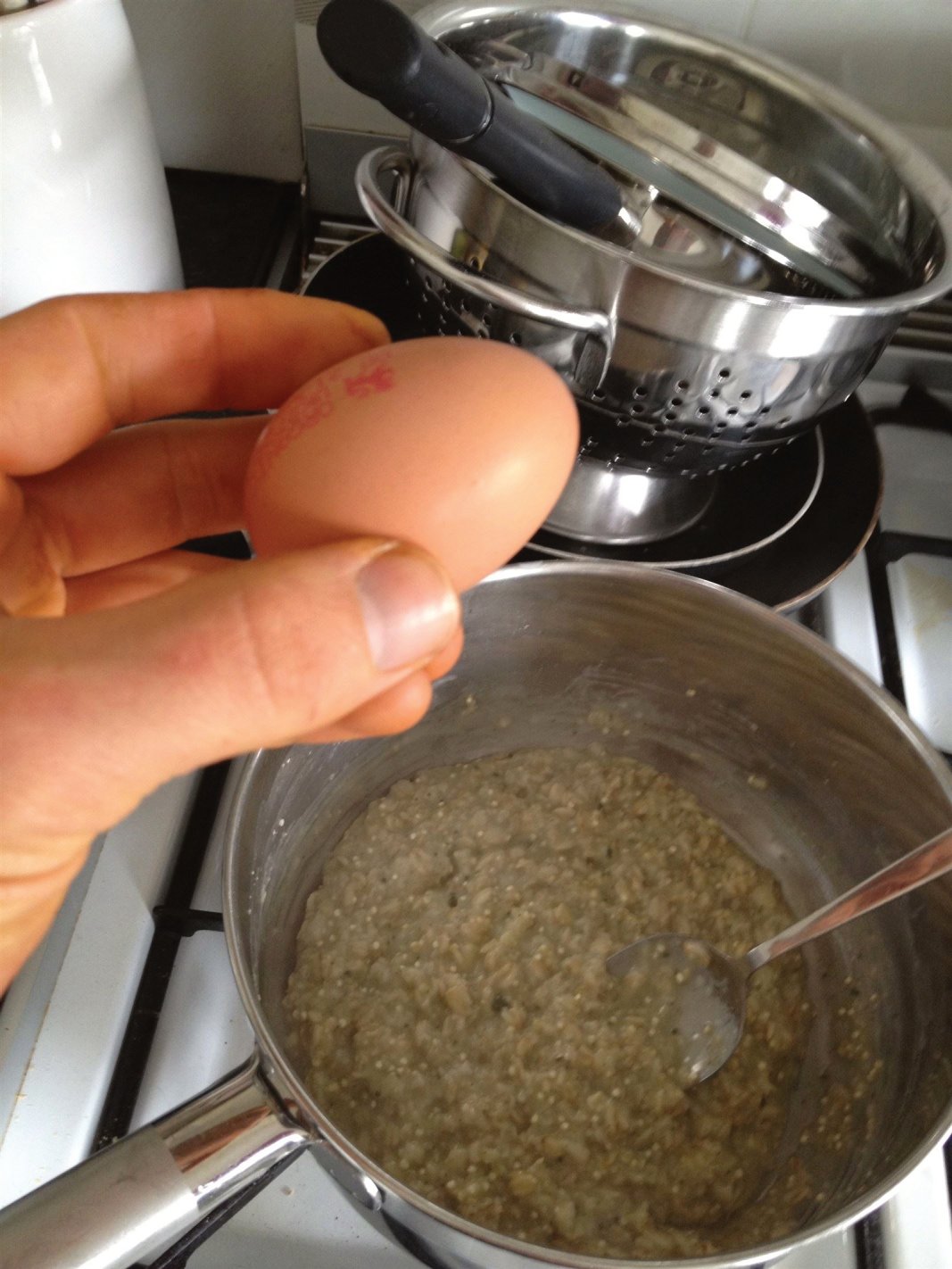 3. Add 1g stevia extract, 15g goji berries, 50g banana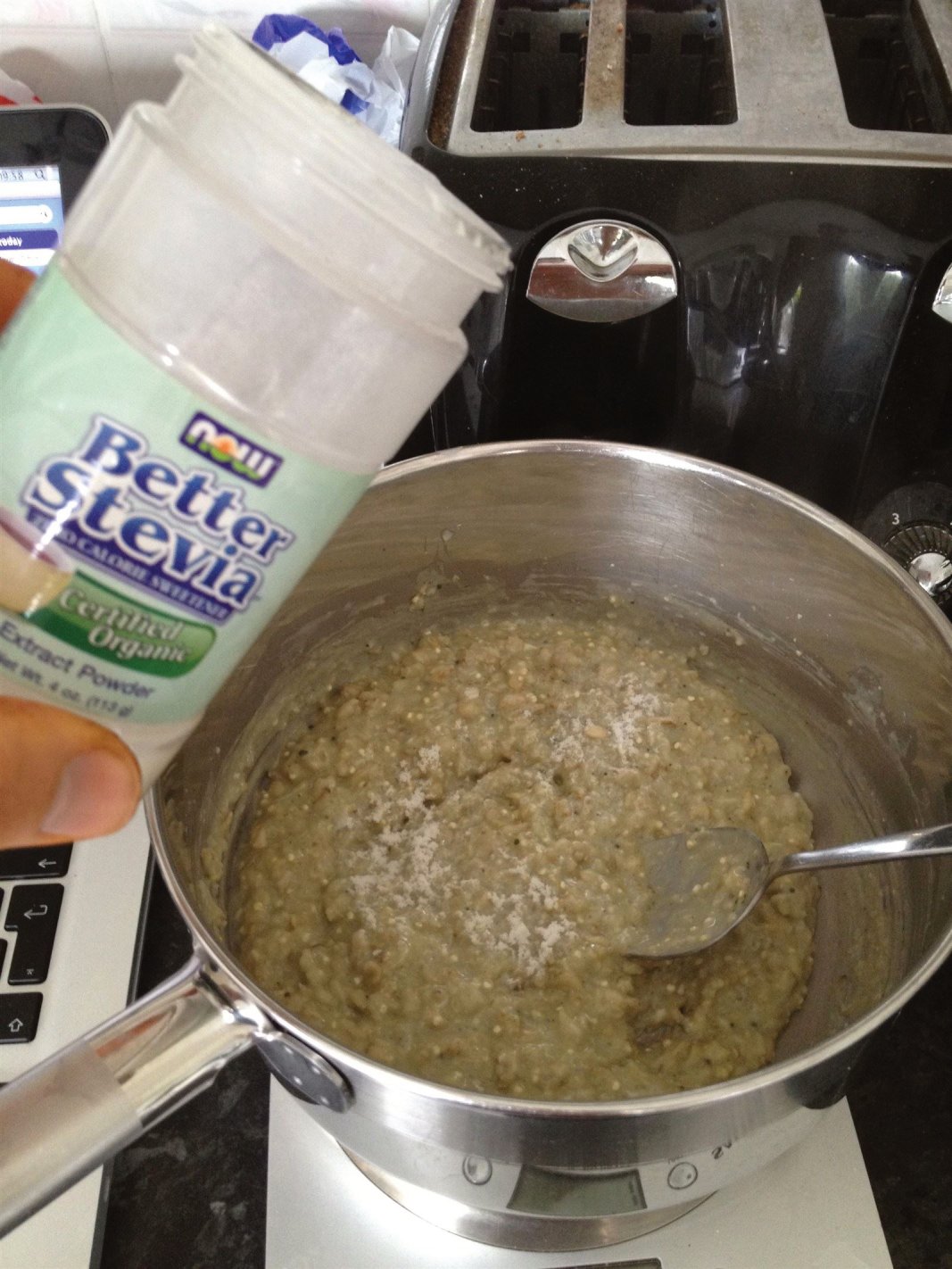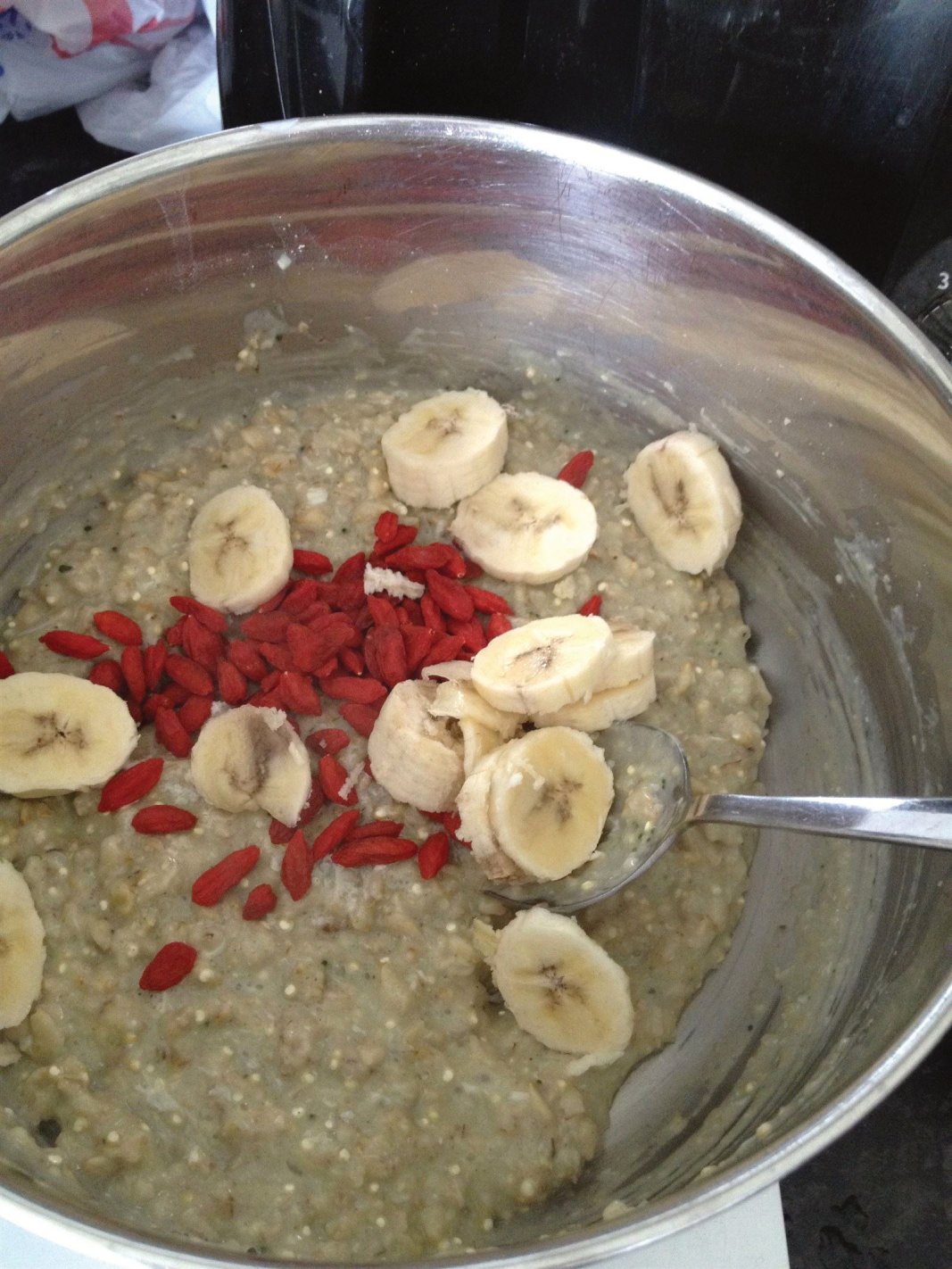 4. Add 20g Pro 10 whey or flavour of your choice and 15g manuka honey
5. Stir and serve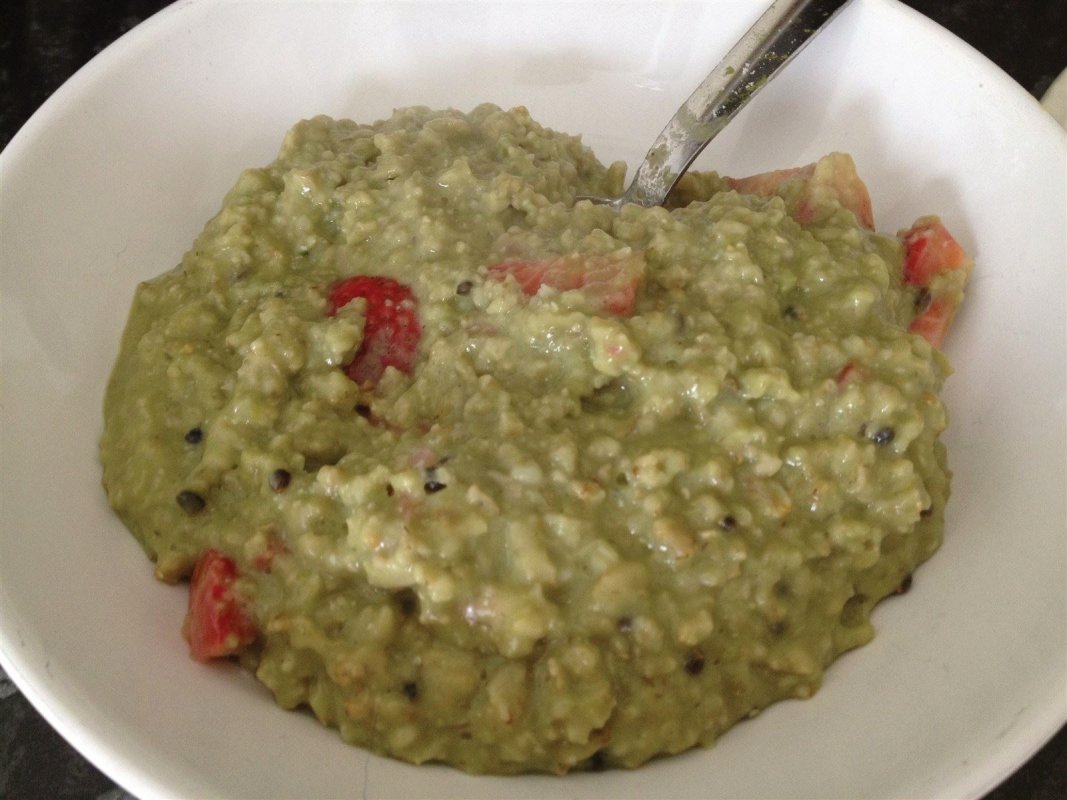 hope you all enjoy as much as I do.
JPPT
High Protein Sweet Potato Pancakes 
If you have seen my previous posts you'll find I'm a bit of a sweet potato buff when baking, it pretty much goes with anything and everything.
Now I used all natural ingredients to make my pancakes except the casein whey by optimum nutrition because I never had almond milk, I just made mixture to milk consistency. Here is the recipe below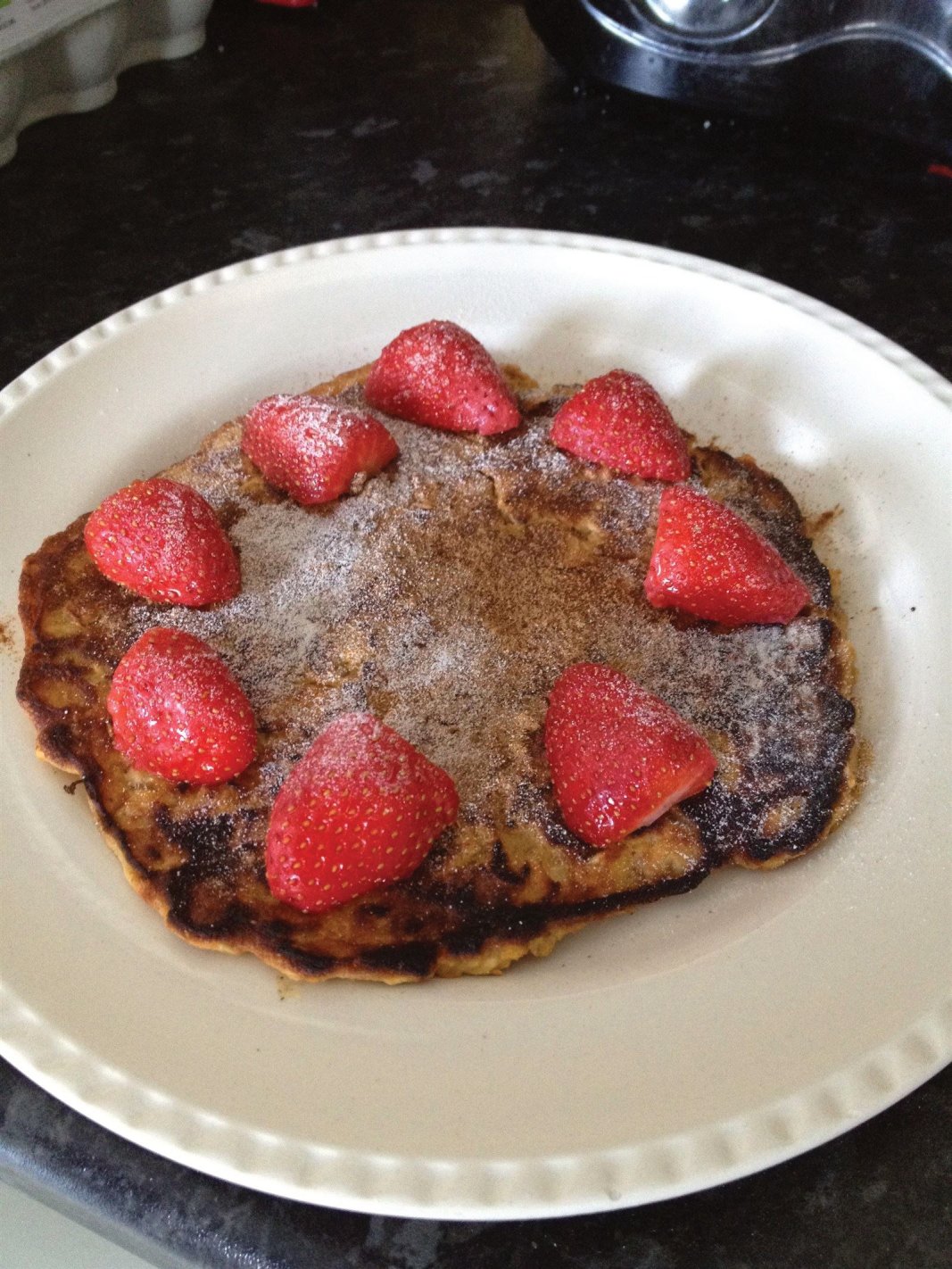 Ingredients:
Makes 2 pancakes
• 30g rolled oats
• 2 tablespoons almond milk/casein whey mixed in water to make milk consistency
• 80g sweet potato de skinned and pre steamed for 15 minutes.
• 1 medium egg
• 30g of almond butter (I used meridian)
The topping:  
strawberries, cinnamon, stevia or truvia if you want to keep calories low, or maple syrup.
Directions:
• Heat and grease griddle (use coconut oil or 1 cal spray)
• Mix first five ingredients in a blender or they will whisk just fine.
• Pour onto griddle and form pancake shape.
• On Medium to low heat, cook slowly and then flip (use a plate if necessary) when the edges are golden brown.
• Cook for 1-2 minutes on the other side 
Top with fruit and syrup, and enjoy! Or if you'd like something really crazy you can use as burger buns.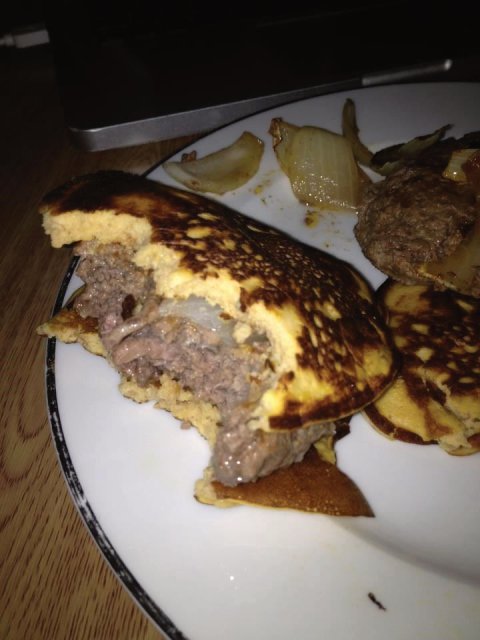 Nutrition information per pancake
Calories 239.1
Carbohydrates 9.8g
Of which sugar – 2.2g
Protein 14.3g
Fat 9.8g
Saturated Fat 0.55g
/